Welcome to the A Magical Dweeb Wikia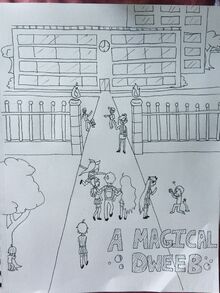 When a magical dweeb enrolls in an academy designed to train mages and bring the world together, he meets new friends and things start to get steamy! Can he stay at the top of his class and keep his harem or will his bubble burst!?
Describe your topic
A Magical Dweeb is an American manga created by Jonah O'laughlin. It is drawn and written by Brandon Luczak. The manga stars Tristan Hamme with his harem along with Brandon and Jonah as his friends.
Featured Character
Featured Page
Latest activity
Photos and videos are a great way to add visuals to your wiki. Find videos about your topic by exploring Wikia's Video Library.
Ad blocker interference detected!
Wikia is a free-to-use site that makes money from advertising. We have a modified experience for viewers using ad blockers

Wikia is not accessible if you've made further modifications. Remove the custom ad blocker rule(s) and the page will load as expected.